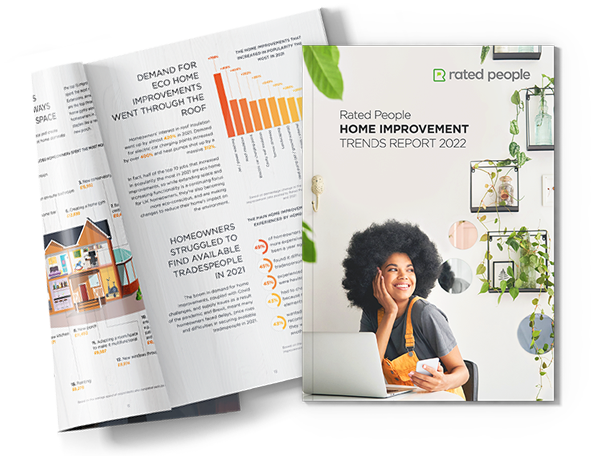 For insights on the biggest trends in renovation and home improvement, take a look at the Rated People Home Improvement Trends Report 2022
Over the past year, demand for eco home improvements has gone through the roof.
Awareness around the need to live more sustainably has never been higher, so it's no surprise that more homeowners than ever are looking for ways to reduce their impact on the planet by making their homes more environmentally friendly.
But, as the cost of living soars and energy prices keep increasing… many homeowners are also looking to make energy-saving eco home upgrades to help with the cost of their bills. More than half in fact (52%) said saving money on bills was their main motivator to having eco home improvements added to their home.
From solar panels to extra insulation, there are lots of ways to improve your home's energy efficiency, and our latest Trends Report reveals the biggest trends for eco home improvements this year – from the most popular eco adaptations, to the ones that now add the most value to your home, and also the UK's greenest trades and how tradespeople are helping to build a greener future for everyone.
And if this has got you inspired to make some eco improvements to your home, you can find local painters and decorators, builders, thermal insulation specialists and gas and heating engineers right here on Rated People.
Rising demand for eco home improvements
When looking at the volume of home improvement jobs posted on Rated People by UK homeowners, demand for roof insulation increased by an incredible 419% in 2021 when compared to the year before.
Demand for at-home electric car charging points also increased by a staggering 404%, cavity wall insulation went up by 352% and heat pumps saw demand rise by an incredible 312%.
The top 15 eco jobs with the biggest increases in demand from homeowners:
Roof insulation – 419% (increase in the number of jobs posted by homeowners to Rated People)
Electric car charging point installation – 404%
Cavity wall insulation – 352%
Heat pump – 312%
Underfloor insulation – 265%
Smart meter – 49%
Living roof – 48%
Thermal insulation – 46%
Triple glazing – 35%
Electric underfloor heating – 33% 
External wall insulation – 29%
Water underfloor heating – 27% 
Solar panel installation – 17%
uPVC windows and door – 17%
Double glazing – 10%
The Most Popular Eco Upgrades for 2022
Our research shows UK homeowners are keen to invest in eco home technology this year. One in five (20%) are looking to have a smart meter installed, and with energy prices increasing by around £700 a year on average, it's easy to see why so many homeowners are keen to have one installed this year.
19% of UK homeowners will be installing smart lighting, 18% are upgrading old appliances for newer more energy efficient models, and one in six (18%) want to have solar panels installed.
The top 10 eco improvements homeowners are planning to make in 2022:
Installing a smart meter – 20% (of UK homeowners are planning to make this eco upgrade this year)
Draught proofing – 20%
Installing smart lighting – 19%
Extra insulation – 19%
Upgrading old appliances – 18%
Installing solar panels – 18%
Installing a low flow toilet – 14%
Installing double glazing – 13%
Creating a compost pile – 13%
Installing a smart thermostat – 13%
Eco home improvements that will maximise your home's value
Eco home improvements can help lower your bills by improving your home's energy-efficiency, but they can also increase the value of your home too.
To find out which eco additions are now the most coveted, we spoke to thousands of potential homebuyers across the UK and asked them how much extra they would pay for a property with a range of different environmentally friendly improvements.
Solar panels and wind turbines are the top two eco upgrades that are most valued by buyers – both of which would enable new owners to create their own energy, and in turn could help to reduce the cost of their bills – they would also collectively add around £26,000 to the value of your home.
Other highly prized eco adaptations include underfloor heating, heat pumps, green roofs and electric car charging points.
The top 15 eco home improvements that can add the most value to your home:
Solar panels – £13,512 (value increase)
Wind turbine – £12,941
Triple glazing – £12,788
Underfloor heating – £12,290
Ground source heat pump – £12,251
Double glazing – £12,005
Extra insulation, like cavity wall insulation – £11,764
Biomass boiler – £11,756
Air source heat pump – £11,670
Solar water heating – £11,646
Electric car charging point – £11,538
Green/living roof – £11,477
Biodiverse garden – £11,444
Old appliances replaced with new ones – £11,190
Draught proofing – £11,151
How tradespeople are going greener in 2022
Almost two in three tradespeople (63%) will be making eco changes to their businesses and work in 2022 to up their green credentials, and 70% are planning to extend their skillset this year to take on more eco jobs.
And it's a good job too, as 43% of homeowners now say they'd be more likely to choose a tradesperson if they were environmentally friendly.
Just like homeowners, tradespeople are recognising the contribution they can make to living more sustainably, and this year, UK tradespeople are reducing the amount they travel to reduce pollution by taking more local jobs, giving quotes remotely and using British parts where possible.
They're also planning to recycle more, use greener materials and drive electric vehicles in 2022 to make their businesses more eco-friendly.
The top eight eco changes tradespeople are making in 2022:
Improve recycling – 41% (of tradespeople will do this in 2022)
Reduce waste – 34%
Use environmentally friendly materials/ products – 27%
Take jobs locally/ don't travel too far for jobs – 27%
Give more quotes remotely to cut down on driving – 25%
Get an electric vehicle – 20%
Use British parts where possible/ support other local businesses – 18%
Use second hand parts where possible – 14%
The UK's greenest trades
When looking at which trades are planning to make eco changes the most this year, more than four in five (85%) bathroom fitters are intending to be more environmentally friendly in 2022 – the most of any trade.
And at least 55% of all the other trades in the top 10 are also looking to upgrade their practices to be more environmentally friendly this year.
The top 10 trades making eco changes the most in 2022:
Bathroom fitters – 85% (are going greener this year)
Roofers – 75%
Gardeners/ landscape gardeners – 68%
Builders – 68%
Electricians – 65%
Carpenters/ joiners – 64%
Painters and decorators – 62%
Plumbers – 60%
Plasterers/renderers – 59%
Tilers – 55%
Almost two in three tradespeople (63%) say their main motivation for making eco changes this year is because they care about the planet. An awareness of changing consumer preferences is also having an impact, with one in three (36%) of those who are making eco changes in 2022, saying they're making changes because homeowners want businesses to be more environmentally friendly.
And just 13% say they are doing it because their competitors are, so they feel they also need to.
Where demand is increasing the most in the UK
When it comes to the places around the UK that are most keen to get on board the eco train – it's Aberdeen that saw the biggest rise in demand for eco home improvement jobs in 2021, with 178% more eco jobs posted on Rated People, when compared to the year before.
Bournemouth, Llandudno, Kirkaldy and Ipswich make up the rest of the top five – all of which have seen homeowner demand for eco home improvements increase by a minimum of 140% in just one year.
The UK towns and cities where demand for eco home improvements has increased the most:
Aberdeen – 178% (increase in the number of jobs posted in 2021 compared to the year before)
Bournemouth – 174%
Llandudno – 170%
Kirkcaldy – 167%
Ipswich – 146%
Newport – 131%
Guildford – 127%
Exeter – 125%
Gloucester – 115%
Newcastle Upon Tyne – 113%
For more on the boom in eco home improvements, and lots more, see the full 2022 Home Improvement Trends Report.
FIND A TRADESPERSON