Between its almost mythically mooned-over mezcal and mole, its paradisal playas and lush green mountain ranges, its affordable price tag and the year-round tropical weather – there are so many reasons to visit Mexico's untouched Oaxaca coast. 
In March I spent three weeks in Mexico, and I got seriously sticky feet on the coast of Oaxaca. Situated on the Pacific coast, the area has so many wonderful things to see and do, lots of yoga, hippies and so many lovely shacks to eat in.
4 Of The Best Beaches You Need To Visit on The Oaxaca Coast
Along this stretch of Pacific coastline in Oaxaca, you'll find a string of beautiful, unpretentious beach towns each with it's own personality where your view of the ocean isn't spoiled by high-rises hotels. . Unlike the touristy areas of Tulum or Cancun, Oaxaca coast attracts a different type of traveller.
Here's my guide to where to visit and what to do!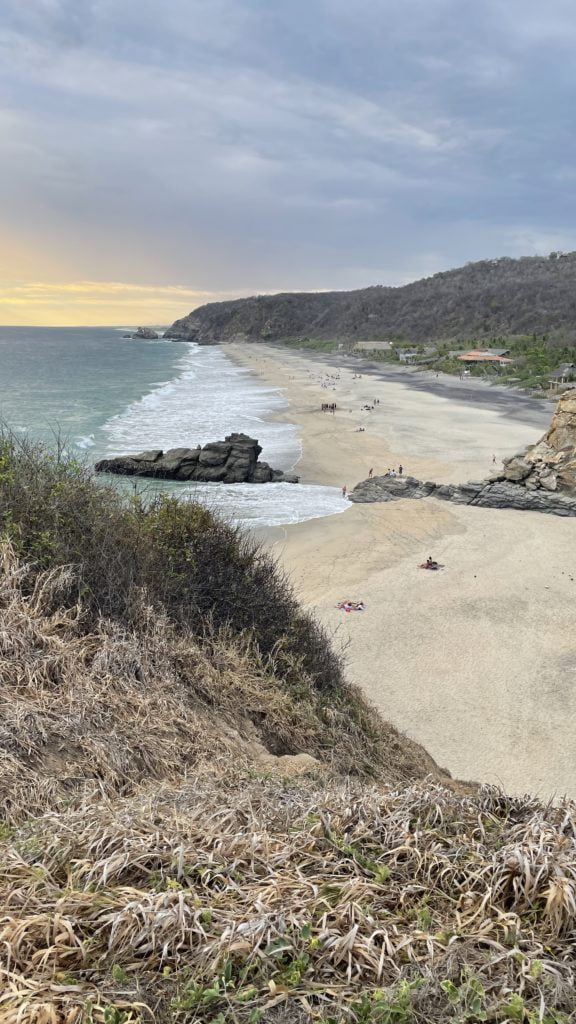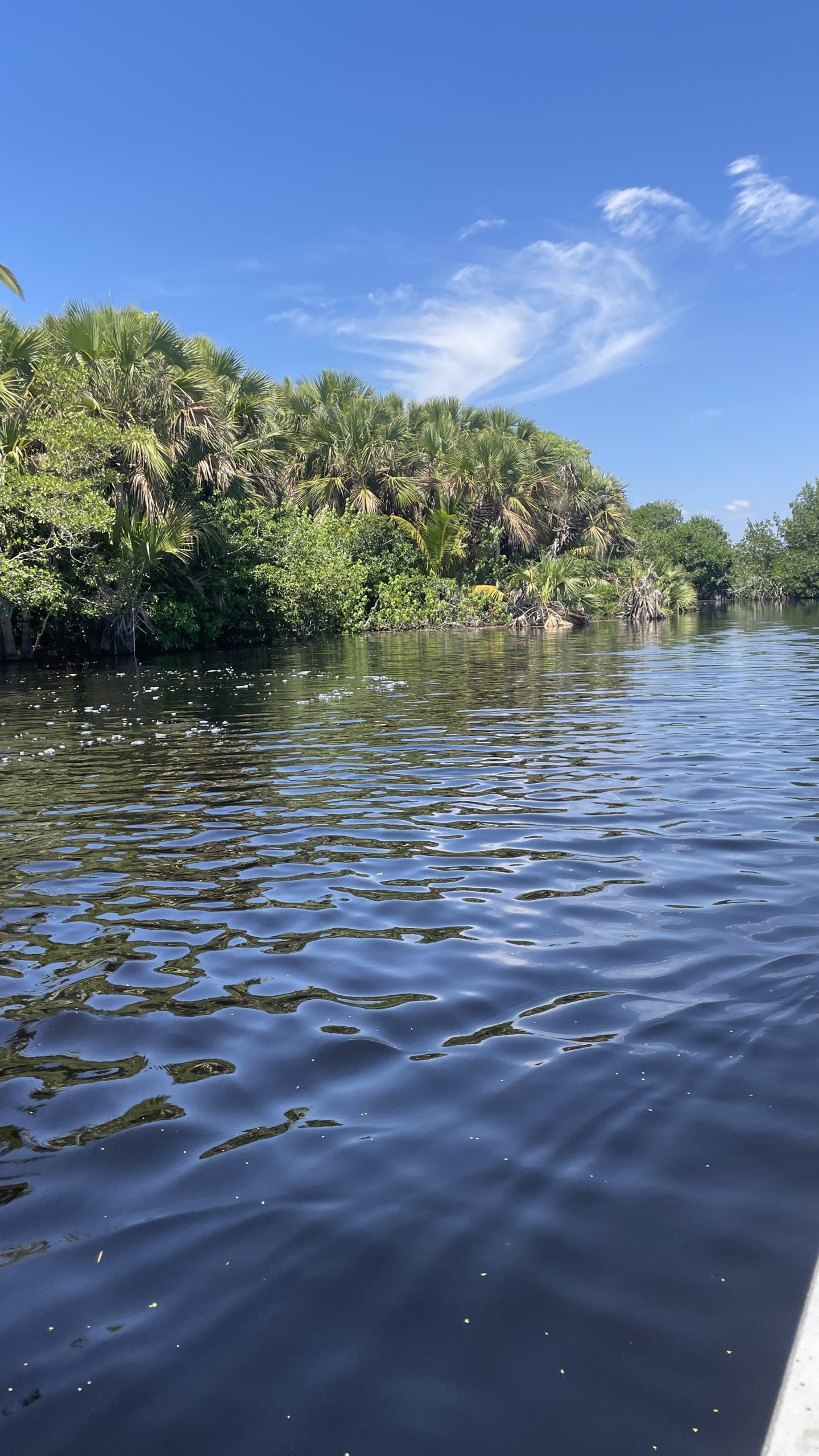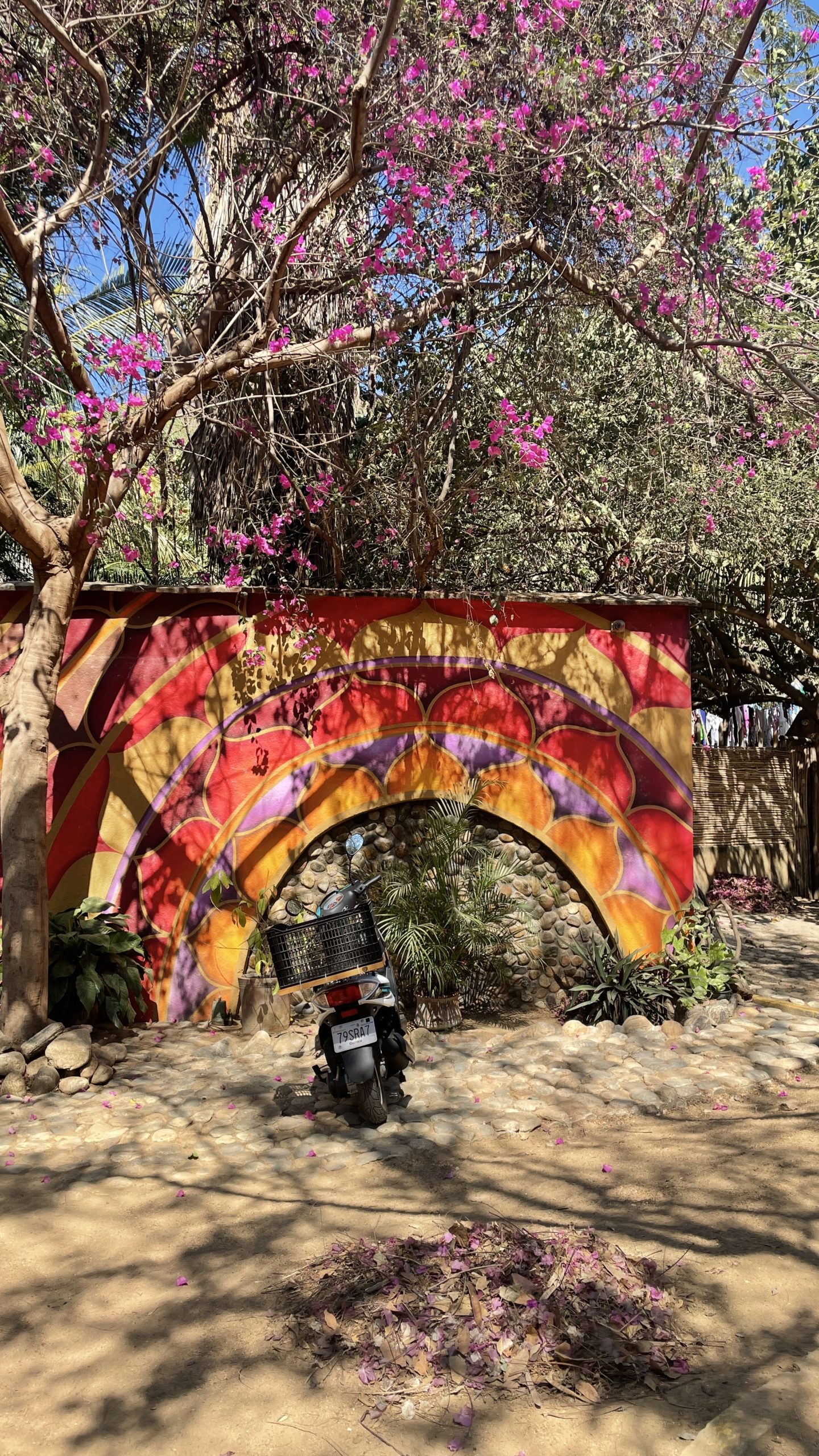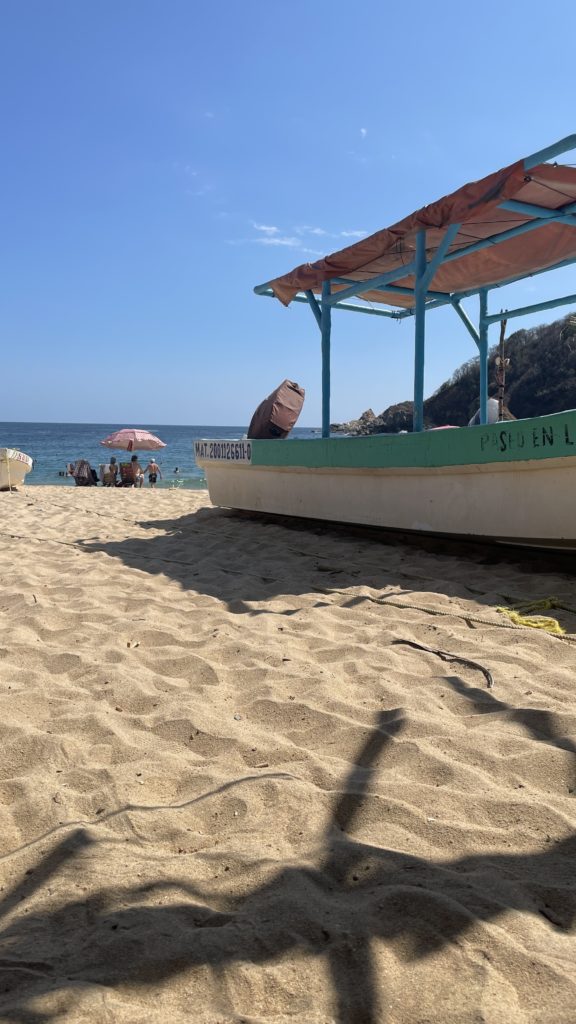 Muzunte
The hippie hotspot in Oaxaca – you'll love the beaches, stunning views, green juice bars, and yoga for all.
Mazunte is a hub for travellers looking for an alternative lifestyle. As well as numerous yoga shalas, there is plenty of vegan food, holistic treatments and laid back vibes. The beach is made up of one long sandy shoreline, then one smaller cove which is safer to swim in.
I was recommended Mazunte as I love yoga. And the classes here are world class (if they open!). Everything here is very laid back – and sometimes you have to go with the flow as maybe your yoga teacher has had a big drumming circle the night before and might not make it to your class! I went to Casa Om – for their early morning classes and it was some of the best yoga I have practiced. There is a different teacher every day – and they will push you to your limits.
Once you have done your daily practice, and had a healthy brunch stop at one of the many bakeries. You'll want to hit the beach. As you lounge and swim, other expect hippies to kindly approach you to sell you jewellery, brownies or offer massages. Don't be surprised to see lots of naked people on Muzunte beach!
Eat: There is no end of local places to eat in Muzunte for proper street food. There are pizza places and lots of nice vegan cafes. Thing close early in Muzente as the locals want to keep the calm town feeling. So go out for diner early, and expect the bars to be closing around 12.
Where to stay: Post Covid, Muzente was busy! I would highly recommend booking your posada's in advance. I had a few nights booked but struggled to get further accommodation. I loved Casa Aquila Mazunte which was on the hillside. Up by the cemetry is a good spot with excellent views – although it is on top of a steep hill. IN the town centre is noisy at night – so be warned!
Must-do: Climb up to take in the dramatic sunset from Punta Cometa, a rocky outcrop that delivers the region's absolute best view of the horizon. And if you're looking to experience some wildlife, participate in a turtle release via the National Mexican Turtle Center in the town centre. Or arrange a day trip the nearby Laguna Ventanilla which is home to over 2000 crocodiles and wildlife.  
To get to the Oaxaca coast, you can take a short plane ride from Mexico city to Puerto Escondido and then either a local bus or a 1.5hr taxi ride (£40) to Muzunte.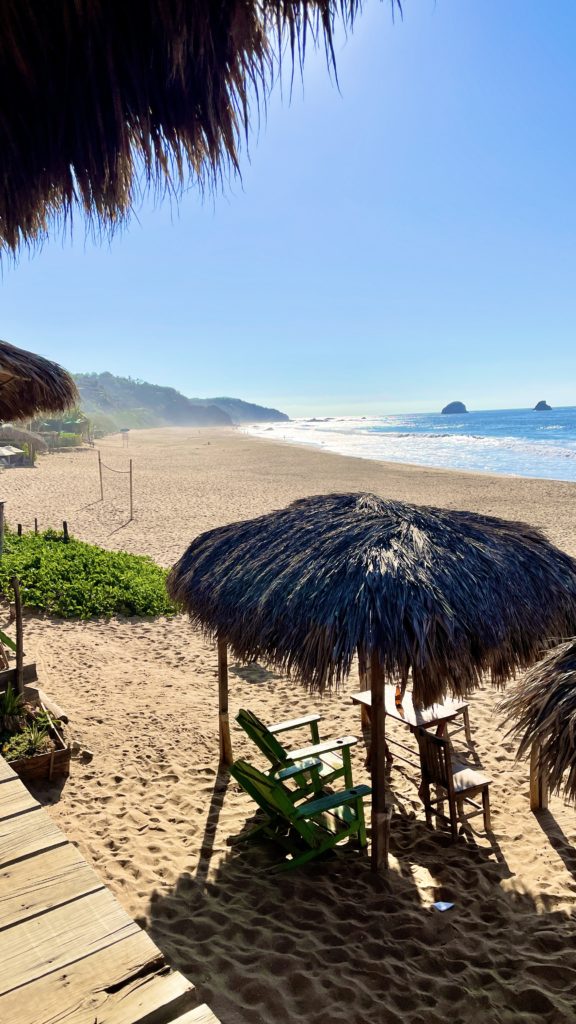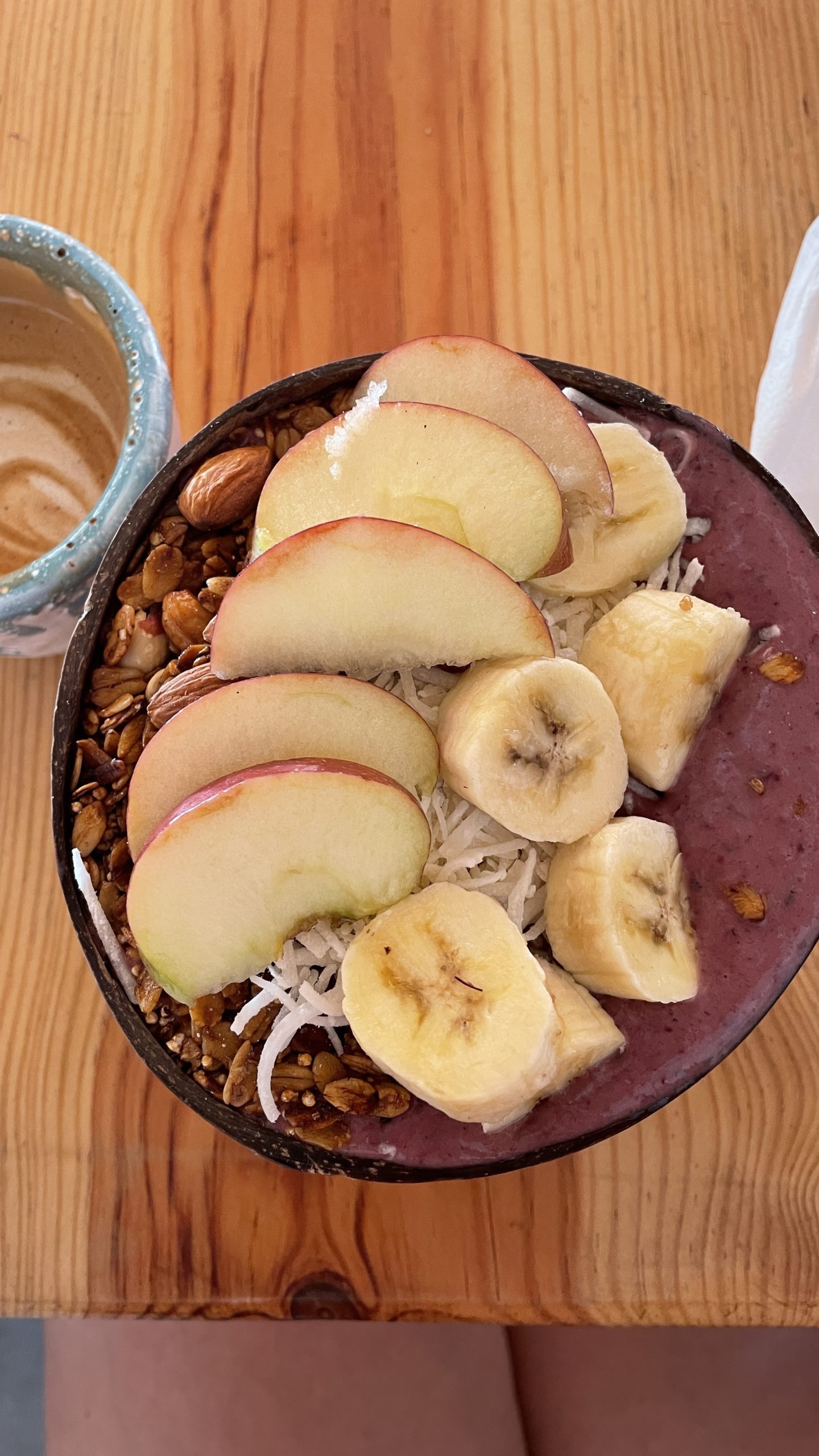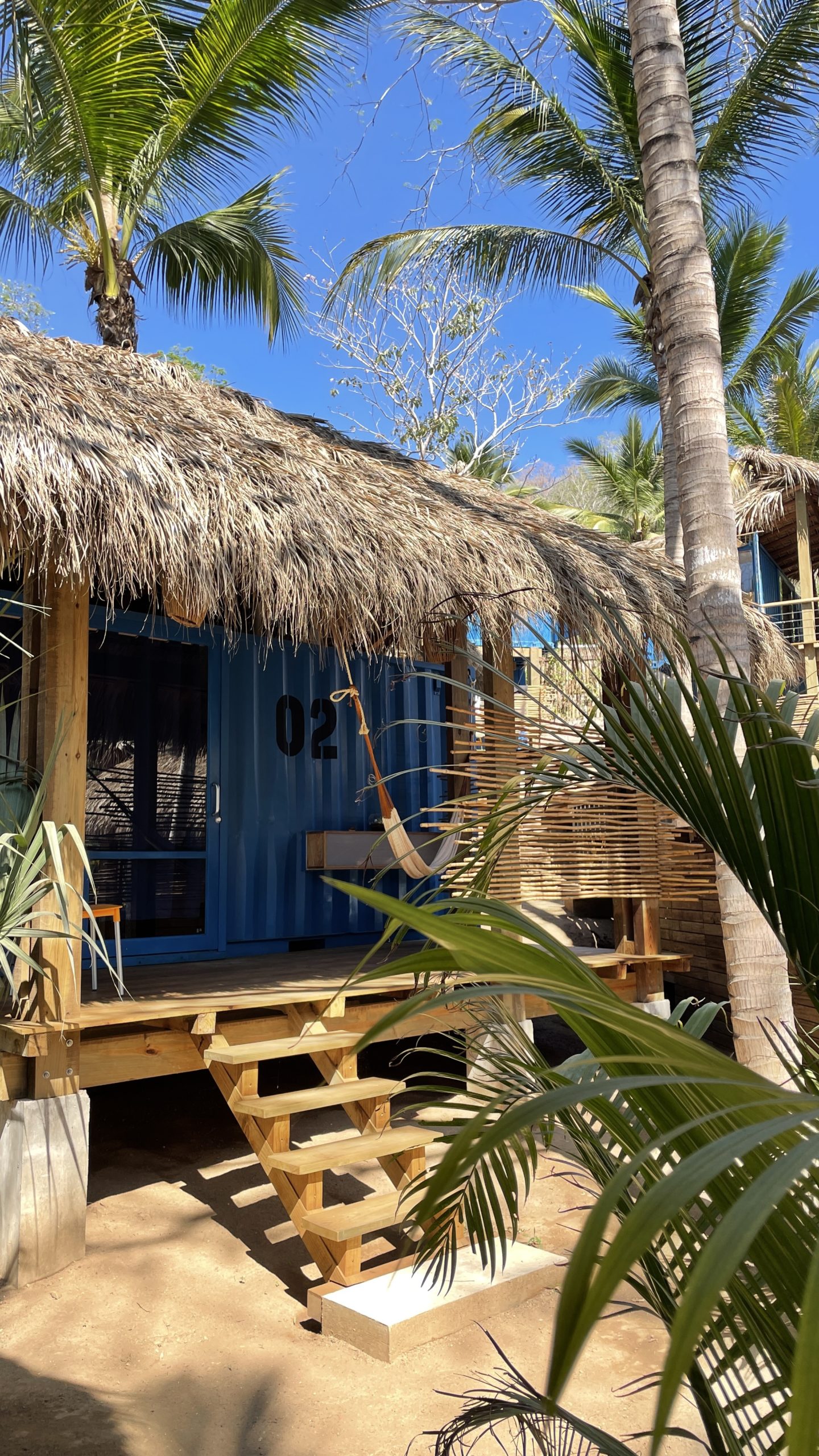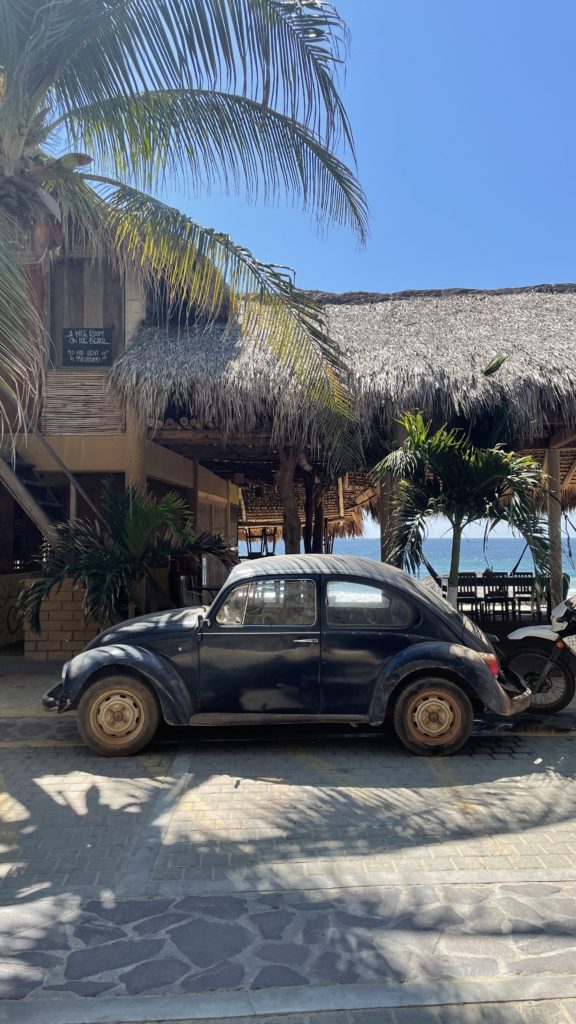 Playa San Agustinillo
If you want to escape from it all, the San Agustinillo is for you.
Known as the 'retirement village' of the Oaxaca beach as it is so quiet and restful, San Agustinillo is perfect place to unwind and relax. The beach is wide and huge and virtually unpopulated. There is one long stretch of sand tha tyou can walk all the way along to spot the amazing beach houses tucked into the cliffs. And at the north end is are two little coves that are ideal for swimming.
Where to eat: San Agustinillo is the perfect spot for breakfast and brunch. My fave cafes were Bistro Paloma and La Mora Posada which had beach views. Tick into a healthy breakfast and a good coffee to kick start your day.
Where to stay: I treated myself to a stay at the H20 Hotel. Made out of blue painted shipping containers, each cabin has air conditioning (rare in Mexico) and open showers. Even the two swimming pools are made from shipping containers! It's a very cool experience for interior lovers.
What to do: Nothing much happens here! It's all about beach, swimming, eating and maybe a walk. There are a few shops selling beautiful clothes. But that is the point of this Oaxaca beach town – to unwind and rest. You can easily hop on a collectivo bus along the coast to your yoga class or to Zipolite if you want a little more action in the evenings. But you'll love it's laid back vibes if you want to rest on holiday.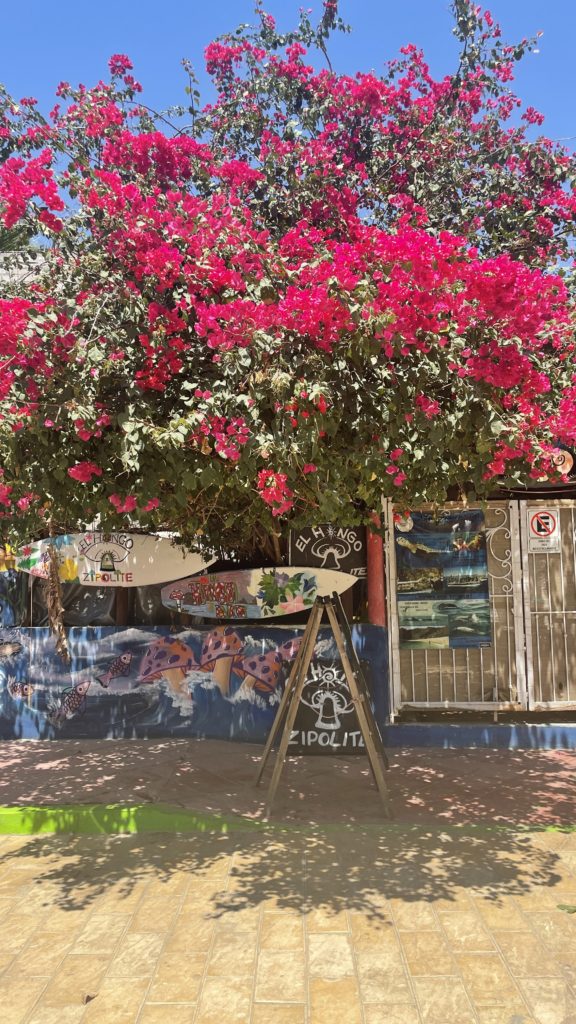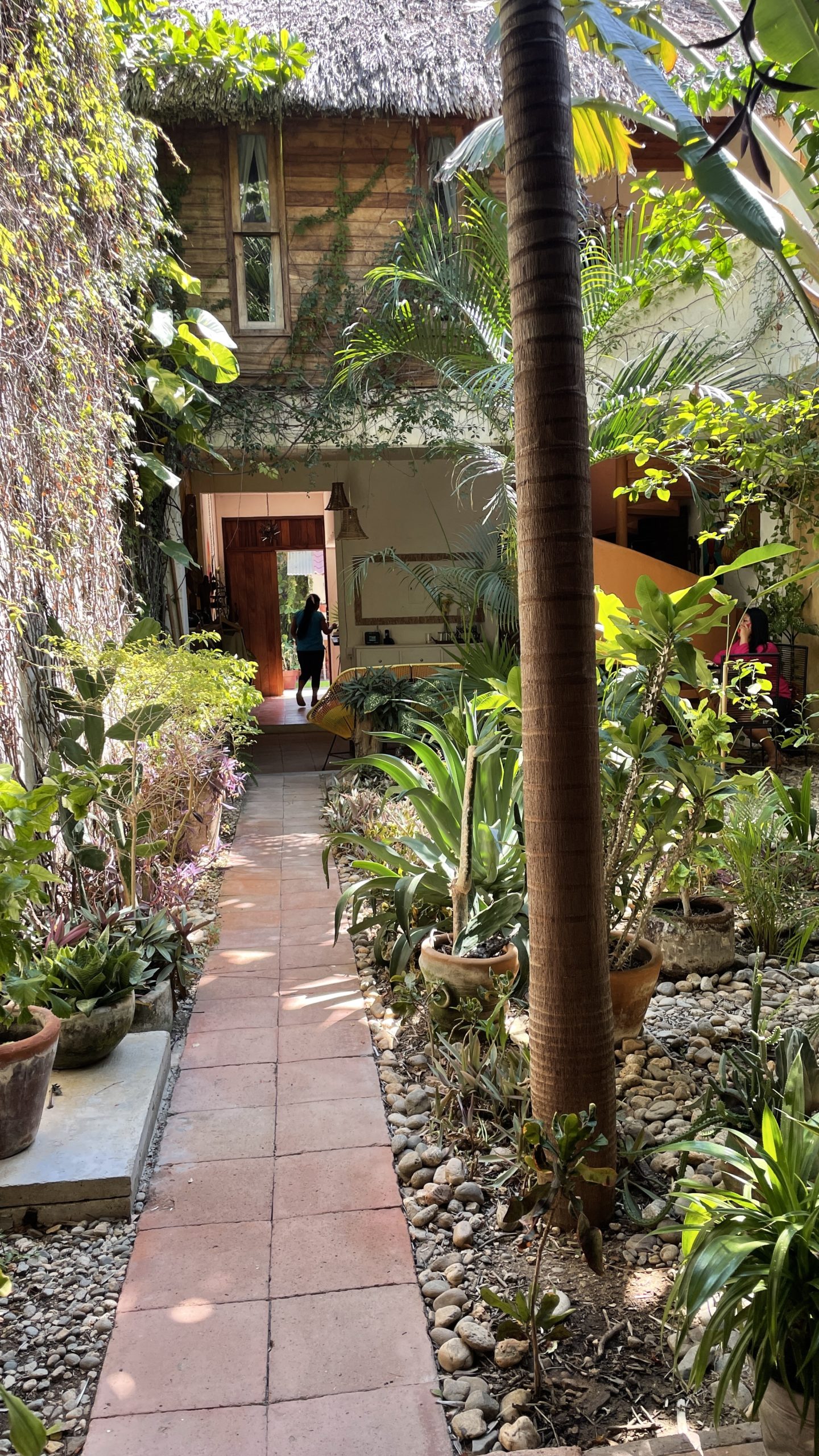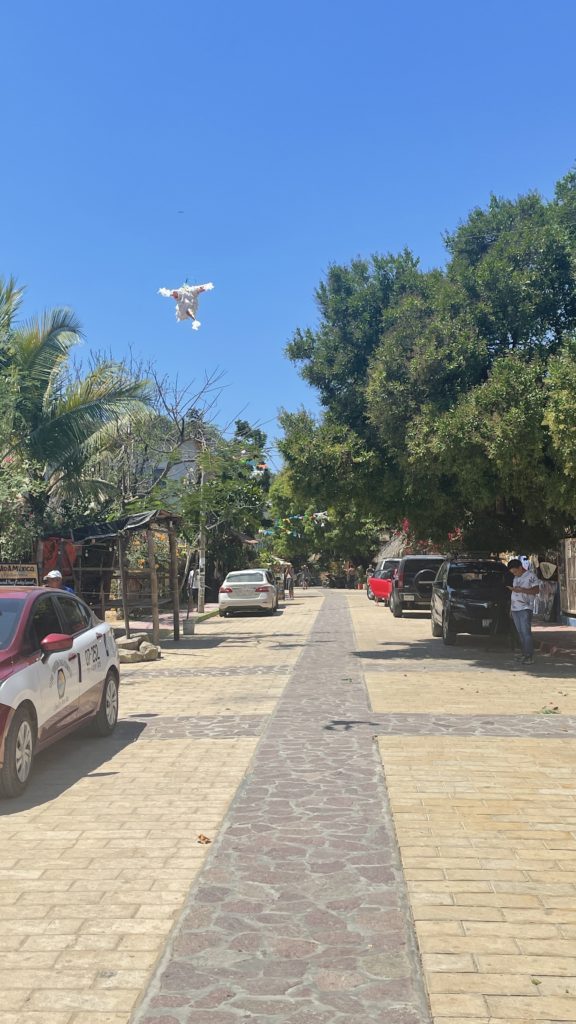 Zipolite
LGBTQ+ town with excellent places to eat, a huge beach – fun vibes.
Zipolite is the only legal nudist beach on the Mexican coast – so expect to see a bottom or two on the beach! There is even a dedicated 'naked hotel' if you really want to get in the swing of things. The main beach is made up of soft white sand, and the roaring the ocean (the waves are HUGE). Great for bodyboarders and surfers bit for swimmers – you'll need to head up the north end of the beach and bounce around in the waves!
I was worried Zipolite was going to be too hectic but after all the soul and hipped in Muzunte, it made a nice alternative. The main street at night is filled with street markets and food stalls. There are lots of cool bars and really good food. And there is a night life – things still close early but there is more of a vibe here. Plus it's cheaper to stay and eat out.
If you use Zipolite as your base, you can jump in a taxi and explore Bahia Luna, Playa Estacahuite (where I spotted whales from the beach) and La Boquilla beach which are perfect for day trips.
Where to eat: Right on the beach is Xhuba which i snew – and has lots of great dishes. They serve mezcal the traditional Oaxaca way with crickets! I loved their sister restaurant Emilia – the food was exceptional. There are lots of cute bars with swings, and places to dance – you're spoilt for choice.
Where to stay: Zipolite is spread out along the stretch of beach and there is a real mix of accommodation. I stayed in an air bnb owned by local family which was so peaceful. I also stayed in one of the best hotels ever Hotel Casa Mixteca – I had my own garden, huge room with a kitchen and super king bed. It was pure luxury on a traveller's budget.
Must-do: There is a club night called Disco Domingo – an LGBTQ+ friendly night which moves venue each Sunday aorund the area. The music was outstanding with DJs from Ibiza and London playing the night I went. Drinks are cheap and entry is free. Pack your sequins!
If you're embracing the nudist lifestyle, head to Playa Amour which is in a hidden cove at the south end of the beach. The sunset was amazing and cocktails were strong! It can get a bit 'sexy' there after dark, so time your visit well!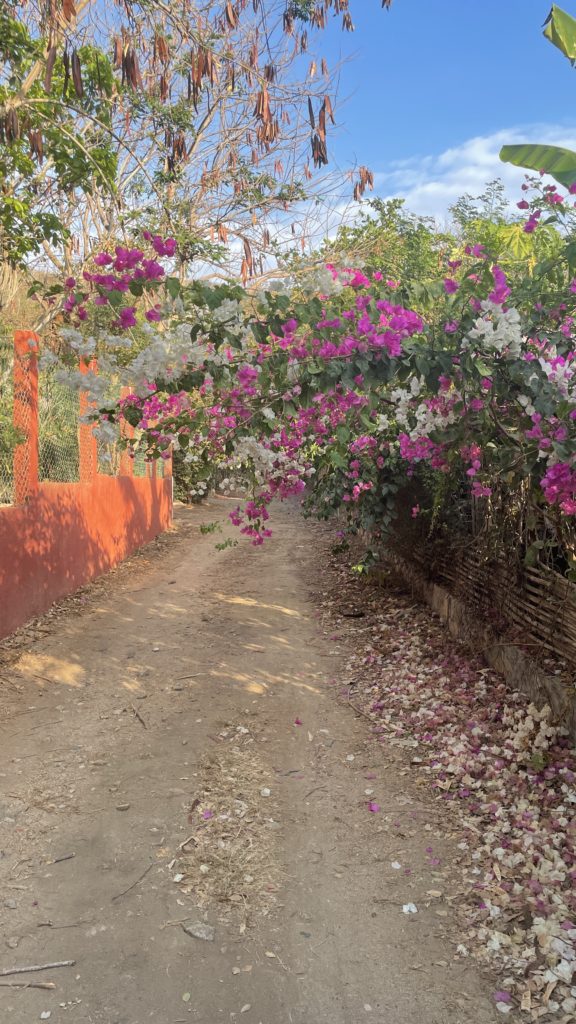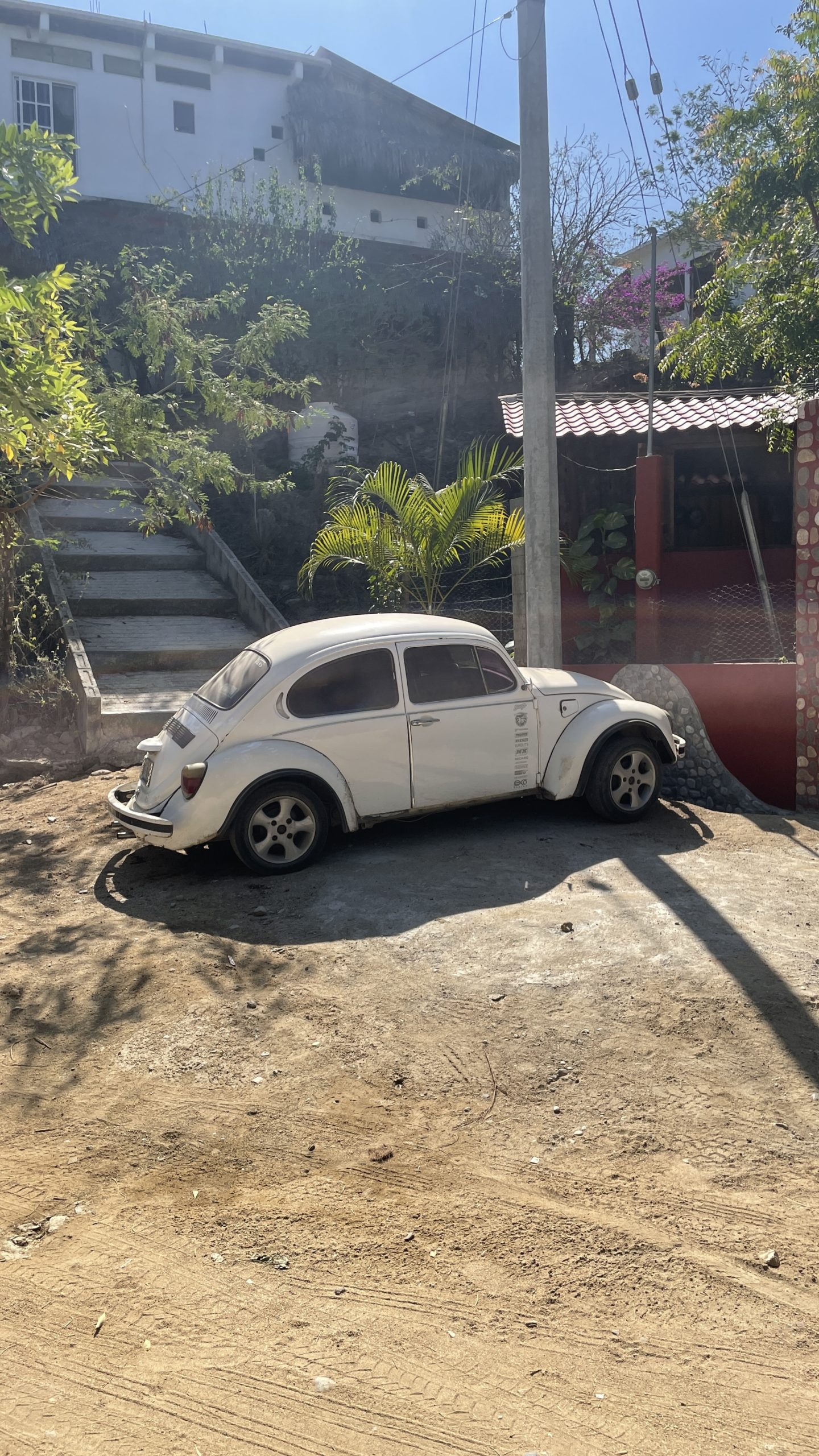 Playa Puerto Angel
A working fishing port, you'll love the calm waters and excellent seafood
Puerto Angel isn't on everyone's must visit list but it has a lot of charm which is seriously underrated. The little port town is filled with fishing boats and little fruit and veg stalls along the coastal road. You'll live like a local here and eat like a king. The small beach is a sheltered cove that is safe to swim in and has lots of snorkling opportunities.
It really is the place that locals hang out in on the Oaxaca coast. When there, we saw a Mexican hen do and families with picnics bathing on the beach. It's worth a day trip as the cove makes is a little cooler than the rest of the coast so it's easier to sunbath in the roaring heat.
Where to eat: Make sure you eat the fresh seafood at the hotels on the beach. It was the best I had in the Oaxaca and reasonably priced too. One has a chatty parrot who will talk to you while you have lunch!
Must-do: In the mornings, usually at 6am, motor boats depart from the beach on guided tours to spot whales, dolphins, and sea turtles. Trips usually last 2.5 hours and cost 200 pesos. Arrange a reservation with your hotel, or just scout around for the guides on the beach. This is was the highlight of my trip. I enjoyed it so much I went twice.
If you're looking for laid back vibes, mixing with locals and unpopulated beaches – then add Oaxaca to your bucket list. Make sure you read my MEXICO TRAVEL GUIDE: EVERYTHING YOU NEED TO KNOW before you book your flight!